Life Things are Happening that I will talk about soon, and that has made things busy. As usual. What is the pathology for inability to chill out?
.
Anyway, the second basement-cleaning trip went well enough aside from the grime. My dad handled everything well -- I underestimated his desire and ability to get rid of a lot of the stuff down there -- and the two of us made another big dent in the clutter. Let's see if I can remember some gems. On the Why? side: five or six boxes of hanging file folders, 19 rolls of packing tape, and several pounds of paper clips. On the sentimental side: early childhood Apple II floppy disks and keyboard covers for things like Stickybear, Facemaker, Iggy's Gnees, Grandma's House, Dinosaur Dig and Muppet Learning Keys. And of course EZ Logo and, later, Print Shop. Also some more adorable schoolwork. ♥ On the What the heck do we do with all this? side: a dozen boxes of computer software and piles and piles of computer hardware going back to at least 1980.
I didn't find the piece of kinky noncon "art" drawn on the back of some elementary school homework that got me into trouble with the school psychologist, but I did find a similar one from what must have been the same era:
( cut for sensitivity )
Also, baby's first vampire creations: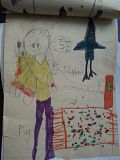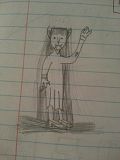 *shakes head fondly*
.
Vidding quandary. I want so badly to include scenes from The Green Table ballet in my next vid, but the quality of the YouTube file that I snagged a couple of years ago (before it disappeared, whew) sucks compared to the rest of the sources going into the project. Yet it is the
only
footage of these scenes from the ballet that I can find anywhere. (There are some decent clips available of the politicians arguing around the green table, but that's not what I need.) Scrunchy face.
Speaking of vidding, Vividcon is this weekend. I'm not able to go, but people's vids will happen! Including

jetpack_monkey
's Starships remix! Excited.
.
There was all this other stuff I wanted to tell you... Oh, good movies:
Fish Tank
, about a troubled teenage girl who seems to have an opportunity to turn her life around when she falls for her mother's new boyfriend (a young Michael Fassbender);
Bliss (Mutluluk)
, about a young Turkish rape survivor who wins over her would-be executioner as well as everyone else she meets while on the run; and
Daydream Nation
, a weird/quirky heavily stylized Canadian indie film about some outcast teens and their parents and teachers during a pivotal few months of school, which I kept thinking about for days (and which contained a joke about Atom Egoyan, helping win my heart) even though it wasn't really about the student/teacher relationship that drew me to it in the first place. Saw
The Queen of Versailles
, too, and was interested in that dual fascination/repulsion way, but didn't think it was as spectacular or revealing as reviews suggested.
ETA:
Oh, duh.

cincodemaygirl
,

alpheratz
and

corbae
threw a hipster-themed party (ironically, of course) the other weekend and it was much fun. In addition to the silly theme, the snacks and the opportunity to see some local fans who've been scarce of late, like

v_greyson
,

roga
was in town (well, in country) and managed to make it down for a few hours. That was great, though short.
.
*cough* So, you know, hi. Thinking of you and reading your posts even if I don't comment a lot.